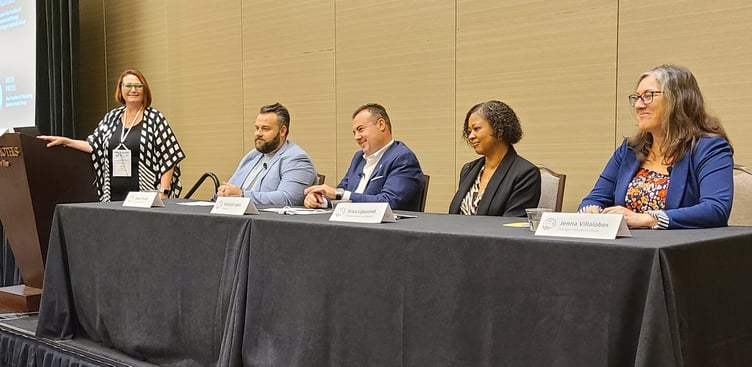 Speakers at the Hotel Data Conference discuss hotel marketing best practices on a panel titled "The dos and don'ts of selling your hotel guestrooms" moderated by Caryl Helsel of Dragonfly Strategists.
"Instead of recovery, think recovered. Hotel demand is back," said Sourav Ghosh, CFO at Host Hotels, to kick off the opening session at the 2022 Hotel Data Conference at the Omni Nashville last week.
Most speakers who took the stage agreed. Leisure travelers hit the roads in droves this summer, as expected, and all indications point to a return in group business travel back to near-pre-pandemic levels this fall and winter. STR and Tourism Economics revised their forecast to bump ADR projections up slightly and occupancy down slightly, balancing out to full pre-pandemic RevPAR recovery for the full year 2022.
Inflation was a hot topic, but speakers were mixed on whether it was a challenge or an opportunity. Some said it gives hoteliers the ability to raise rates right along with other goods and services, while others suggested travelers could be priced out of the market – and STR's downward occupancy revision was made based somewhat on that notion. "There are reasons to be concerned about the economy, continued challenges around labor and business transient still lagging, but the hotel industry is on solid footing," said Amanda Hite, president of STR.
Revenue managers (and the evolution of the revenue management discipline) continue to receive credit for holding rate throughout the pandemic. One speaker suggested that if hotel operators would have reacted to demand dips the way they did in previous downturns, the industry would still be a long way from recovery.
"We're not going to drop rate to drive occupancy because we're much more focused on the bottom line now," said Peter Strebel, Chairman of Omni Hotels & Resorts. "Hotels have crystalized their thinking around profitability."
Skirt These Challenges
Between all the positivity, speakers did identify some potential challenges ahead. The rapid rising cost of goods and services means RevPAR adjusted for inflation won't officially recover until 2025, STR predicts.
Full service hotels continue to be a weak spot as group and business travel hasn't fully returned. Demand for the luxury segment lags, but luxury operators are making up for it by driving rate.
Revenue managers are adapting to dramatically shorter lead times, and the sticking power of bleisure business means Thursdays and Sundays are officially no longer considered shoulder nights.
Among other grievances, Mitch Patel, founder of Vision Hospitality Group, pushed brands for stricter management of cancellation policies, saying "we're the only industry where you can tie up our inventory for a year and back out before 24 hours of purchase. It's not about collecting more dollars, it's about better managing our inventory."
Of course, labor issues and staffing challenges were discussed, but they didn't dominate the conversation.
"When groups come back in the Fall, I'm worried about banquet and catering staffing," said Hite of STR.
Omni's Strebel said he has his doubts around self-service solving the industry's labor challenges. "I've been to hotels with keyless self check-in and I'm just not sure that's the future," he said.
Vision's Patel pushed for innovation around digital tipping to alleviate wage pressure, suggesting brands implement tipping within their apps. "Try cleaning 14 rooms a day. It's a hard job. Why can't we simply create a way on our app where you can just tip a housekeeper $5 or $10. That's a game changer," he said.
"Easier said than done," quipped Erika Alexander, Chief Global Officer for Marriott International. "We're relying on technology – these are businesses that were born in a different time."
Evolution of Hotel Marketing
Assuming you can adapt to the challenges identified above, how should your hotel put its best foot forward to ride the positive demand wave?
First, take a look at your organizational structure. Marketing leaders agreed that a smart strategy moving forward is to build resources and staffing at a central location rather than on property. At Outrigger Hotels & Resorts, what used to be called the RevGen team is now called the commercial team, where revenue, marketing and sales all fall under one umbrella, said Jenna Villalobos, senior VP of Commercial Strategy.
Speakers said today's travelers want unique experiences, so the best marketers are identifying their hotel's story and telling that story consistently through all the available marketing channels. "Ask the why? Why am I coming to your hotel?" said Rich Lopes, head of sales at Travelzoo. "Find your story and tell it."
Jason Pirock, VP of Marketing at Aparium Hotels, said that same message needs to extend beyond your direct website and email marketing to third-party distribution partners as well. "That story has to match on property and online," he said. "Content is expensive, but it's critical. Revising your website helps because you're adding new content, and you can update your content center on the OTAs to match."
Marketing leaders suggested that influencer partnerships are crucial today and that operators should budget for influencer marketing in their campaigns. Work with influencers that are aligned with your brand and evaluate them based on their demographics, they suggested. Don't just look at number of followers, look at engagement, and provide UTMs to track ROI.
Reflect and Re-Engage
One prevailing sentiment seemed to run through the conference: While the quick bounceback solidifies the fact that travel is a resilient industry, we can't overlook the fact that the pandemic changed the course of a lot of former hoteliers' lives, and our industry looks different today because of it.
"In January and February of 2020, we were having record months," Patel, of Vision, said. "But we have many fixed expenses in this business. Not in my wildest imagination did I ever think we'd have to furlough employees who were with us 15, 20 years. It was about survival. This is a people business and that was very heartbreaking, and we are dealing with the consequences today. These were family members. There was trust that was lost and we as an industry are rebuilding that trust to this day."
Thinking back to March, April and May of 2020, it wasn't unreasonable to ask whether travel would ever look the same, whether large scale meetings and conventions would ever return.
Erika Alexander of Marriott said the pandemic solidified the fact that our industry has a long future "Pre-pandemic we thought travel was discretionary. We have now realized that people need, crave and require it," she said.