Diving deep to learn more about who exactly is booking your hotel rooms and what channels they are booking on has always been important to hotel revenue, marketing and sales teams. But as we exit the year-long pandemic and see a completely new group of travelers emerging, guest and business segmentation has never been more important.
Since our previous post on segmentation, 'Why your hotel needs in-depth market segmentation,' was so popular, we decided to update it here with COVID-19 in mind.
As a hotelier, it's critical to know as much as you possibly can about who is traveling and who is booking your hotel – not only today but for the next year, at least. Educated guesses tell us It's likely leisure travelers today with some business travelers and groups booking for dates in Q3 and Q4 later this year. International demand won't likely come until Spring of 2022. But educated guesses aren't enough – the data is there and hoteliers should be analyzing it to make accurate decisions to shape an optimal revenue strategy.
At a basic level, here is how you should be segmenting your demand today:
– Business vs. leisure. Looking at your pace and pickup by segment, when does it look like business travel will return? How can you shape your marketing and pricing to get in front of business travelers today?
– By channel. What channel people are most of your bookings coming from? If it's an OTA, how can you put strategies in place to shift that demand to your direct channels?
– By day of week. How does your mix of weekday versus weekend business look today versus pre-pandemic? Knowing this will help you determine which promotions and restrictions are a good strategy.
– Source markets. Where are travelers coming from? Domestic versus international will have very different booking windows and stay patterns, which will require specific distribution strategies and cancellation policies to capture your fair share.
– Repeat guests. What percentage of bookings are coming from guests who have stayed with you before? Knowing this will help you "score" repeat guests and make personalized offers to them.
– Ancillary revenue sources. Are the travelers booking your hotel today also booking additional services, such as spa reservations or meeting space? Knowing this should shape your rate offerings, promotions, and upsell opportunities.
Defining Market Segmentation for Hotels
Market segmentation, or dividing your hotel's business into categories, often focuses on product, pricing, and distribution.
"Each segment tends to have a different booking behavior. It's important to be able to segment out your business, so you know who books when, what kind of rates they book, and just what their booking behavior is," says Nicole Adair, SHR Director of Revenue Management.
"It also gives you information about their travel patterns," she says. "Different segments will tend to travel on a different day of the week or a different month out of the year, for instance, and knowing this lets you forecast your segments."
How Hotels Use Market Segmentation Data
The main source of this segmentation data can be pulled from your reservations records, which often include check-in and check-out dates, contact information (including address), and rate code. You can often pull these reservations records from your PMS, but if your PMS doesn't offer this capability, you can export from your CRS. Examine historical data as well as forward-looking data and pull it into an Excel file to start your analysis.
Your sales team likes market segmentation reports because they clearly delineate pace and trends. Perhaps the reports show that a certain part of your corporate segment has been trending downward for the last year. Your sales staff can investigate why you are losing that corporate business and figure out what you need to do to get it back.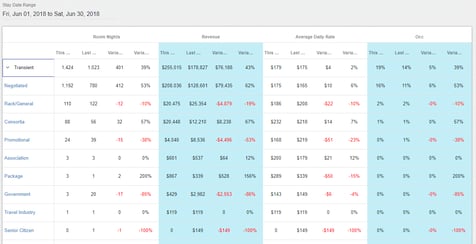 Segmentation information is also valuable to the marketing department. "Maybe there's a soft period," says Adair, "or a segment that doesn't travel on weekends, or travels very heavily on weekdays. Knowing this not only helps inform marketing strategies to drive business during need periods, but also protect against wasteful marketing spend."
Knowing a consumer group's behaviors lets you target it by presenting offers that match its needs and budget. And being able to be this specific can make your marketing more cost-effective.
As for revenue managers, they use carefully defined sets of market segments to determine the best pricing per segment as well as distribution. That information is also important for reporting and tracking.
The true value of market segmentation, says Adair, is that it shows you where to focus your efforts. "If you know that certain segments book in a certain pattern, you can work on getting that business to your hotel. You can focus on that segment where they book heavily."
Changes
In the past, hotels paid a lot of attention to the separate segments of leisure and business travel. But booking methods have changed so much that it can be hard for some hotels to determine who is traveling for business and who is booking a vacation.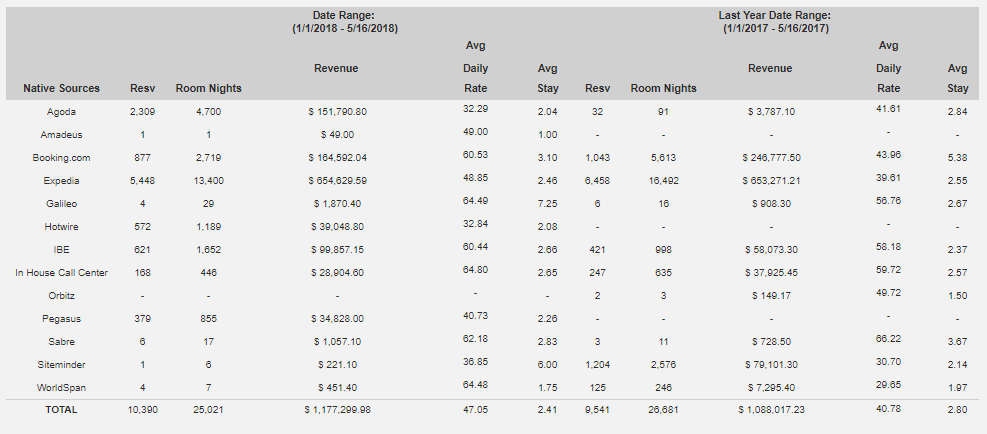 This is why it's so important to get accurate, relevant, and actionable data on source and segmentation from your CRS and analytics systems. Make sure you train your front desk staff about this, because it's critical that they gather guest information. Once a guest has checked in, the front desk staff member should know why the guest is there and be sure it is noted on the reservation.
Staying Current
It's not enough to merely set up market segmentation — it's also a good idea to occasionally re-evaluate your segments to be sure they remain current and useful, particularly in today's recovery environment. While you need some continuity in order to compare "over specific timeframes, adjusting segments from time to time can make your tracking and forecasting easier and ensures they are more accurate.
"There are so many ways people can book now that it's really important you keep track of and understand where your business is coming from," says Adair. "It's important so you can get the proper distribution strategy and rates out there, control the business mix your hotel is getting, and manage it properly to maximize your revenue."