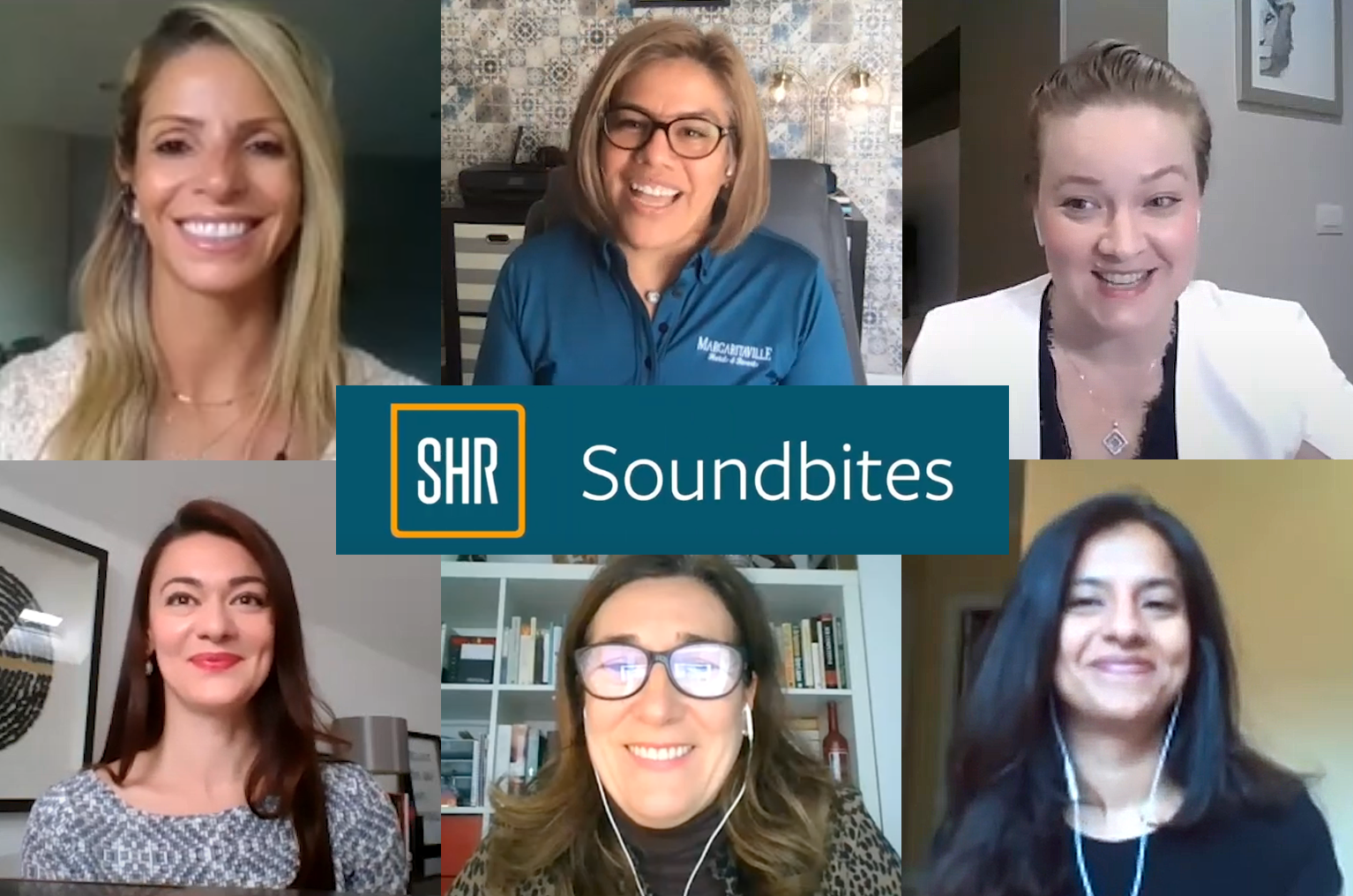 2020 was a transformational year for revenue leaders across the globe. Old strategies to measure supply and demand became obsolete almost overnight and, throughout the year, teams were focused on finding new ways to price rooms and capture business.
As the year progressed and hoteliers put new strategies in place, SHR documented those changes in real time through its Soundbites podcast. We were grateful to land interviews with top revenue experts and it was often women revenue leaders who brought the best content to the table.
They challenged the status quo by suggesting hoteliers stop relying on historical data and refrain from dropping rate in attempts to spur demand. They shared new successes, such as revisiting consumer behavior and re-thinking stale comp sets. In addition to navigating the challenges of a pandemic at home, women revenue leaders in 2020 went above and beyond to ensure their businesses remained successful.
Below, you'll find highlights from our best 2020 Soundbites episodes.
Marta Varela, Director of Revenue Strategy, Barcelo Hotel Group (full interview)
"You have to forget everything historical. History and budget is not on the table anymore. The only historical data that we look at is what happened last month – we look at the percentage of occupancy we had at the beginning of the month and how did we end the month.
"My advice would be to revisit all the typical indicators that we traditionally look at, like segmentation, channel, booking windows, and especially the origin of business. On one side, I'm encouraging everybody to be on all the possible channels even if our direct channel is the most preferable one. We want to be in all the possible windows to get that business. On the other hand, we must look closely at the origin of business and not apply certain offers that will not bring you that additional business but will instead dilute your own business.
"Also, we must closely analyze customer behavior and how this has changed. For some hotels, bookings are coming two days in advance, and for some, bookings are coming four days in advance. So, really analyze what the customer is looking for, what makes them feel comfortable, and try to give the customer what they are looking for."
Olga Sommer, Director Of Revenue, Nobu Hotel London Portman Square (full interview)
"The way we view market segmentation has changed – the way those markets are behaving right now is very different. Pricing has changed as well. Three- and four-star hotels have decided to go into a price war, while luxury properties have decided to drop the rates maybe by 30%, but they work more on the value-added benefits for the guests.
"Hotels are looking at their products and services and determining what is more profitable. And they're going to quite a granular level. So, one of the simple examples is different breakfast offerings – if you work out the cost element, not just for food and drink but also staffing levels, you will be able to work out the profitability of each service and then you start realizing actually what makes a bigger impact on your strategy and your profitability.
"I think a lot of hotels and directors of revenue management general managers are looking more into profitability and I'm really pleased about it because I think it was a change that should've happened a long time ago.
"In the future, we'll see more automation for the revenue management function and probably other functionalities as well. I think within revenue there will probably be a 50-50 split between rooms revenue and other revenues, and it will be more focused on experiences. I think we will not see corporate travel come back ever to the same level as it was pre-pandemic – traveler behavior will be very different."
Claudia Infante, Margaritaville (full interview)
"One of the things that we advocated at the very beginning of the pandemic was to hold rate, because when there's no demand, it doesn't matter what the rate is, that's not going to help you. We went through quite a few case studies on similar scenarios around the world where pandemics affected demand – such as Asia with the SARS pandemic in 2010 – and we directed our properties to take that into consideration before they made any drastic changes. Of course, rate always plays a role, but I think sanitization and safety and the trust that you build with the guests is what made a lot of those decisions easier.
"While we were making these decisions, we were providing the guests with continuous updates and continuous communication. Communications played a huge role for us in how revenue management was able to maintain rate and maintain a certain level of profitability. We were mindful that these guests were coming back because they needed a break.
"For our Tennessee properties in the Smoky Mountains, December is technically their slow season. But this year they're breaking all kinds of records in occupancy and rate – people are coming in droves to the mountains because they just want to be outside.
"I think Q1 is going to be rough, and we are all going to be looking for ways to 1) save money, cut your cost and and make sure that you're not spending on anything that is not absolutely necessary, and 2) we know there is going to be tough competition to go get that guest because the guest is going to be bombarded with options."
Leanne Reddie, Commercial Sales and Marketing Director, Azerai Resorts (full interview)
"We've demonstrated globally the importance of adapting to the unprecedented times and, from the sales and marketing angle and for hoteliers around the world, it's just giving it a go and trying new things, not adopting any policy or process that you did prior. I think flexibility is key. The non-refundable prepayment business of the past doesn't really exist right now because people just aren't confident with that. I think data is key – data will drive the understanding of recovery and I believe it's critical to apply data to use that in the decision-making.
"It's time to give back and pay it forward. There are a lot of people around the world that need help right now and if you can support a previous colleague with a positive Linkedin post, or helping someone who's lost their job with their resume. We're very fortunate to be employed right now and it's really important for the industry to come together in that way."
Bianca Porto Barga, AskSuite (full interview)
"A lot of boutique hotels complain that they cannot compete with branded hotels, but if you don't have a revenue management system in place, you're probably not going to be able to compete with them. An RMS allows a director of revenue or a revenue manager to do their jobs properly, which should be analyzing the data, understanding the data, and making intelligent decisions. A lot of revenue managers today are still using Excel spreadsheets to make their pickup reports or to combine data for their owners while they could be using a revenue management system and analyzing this data and making more efficient decisions."
Priya Chandnani, VP, Revenue Management at Benchmark (full interview)
"It was interesting to see how the forecasting experience has changed – we are so dependent on historical data, our pace, what is our revenue management system telling us – we had to throw all of that out and think of a creative way to say, 'OK, how do we forecast for the rest of the year?' One thing that we started doing was really building out scenarios – so best case, worst case, something in the middle – and then also scaling. So, if we do lose 10% in occupancy, what does that mean to the bottom line? If it's 15%, what does that mean to the bottom line? Certainly it was a learning experience for all of us, but I think we're better for it, we're more prepared.
"I do think we've been wearing multiple hats a lot more than we otherwise used to, so I'm the analyst, I'm the revenue manager, I'm the director of revenue – I think there's a lot of that going on. The one thing I love coming out of this experience is we've grown stronger as a company and as a team about the strategy of getting those bookings again.
"One thing we are doing across the board is continuing to drive our direct business. Benchmark is one of the few companies I know that invests heavily in marketing and we are extremely protective of that direct business. One of the promotions we've had recently is the road-trip promotion, which has worked very well for us. It really appeals to that nostalgia – mom and dad, kids in the back of the car, driving to your vacation destination. It has appealed very well to our guests who are coming to stay and has certainly been one of our most successful promotions this summer.
"If there's anything we've learned from the last downturn, it's been holding on to that rate. Dropping rate at this point is not going to trigger any additional demand. There's really no sense in leaving money on the table, so we've tried to be very thoughtful about our rate strategy and our positioning.
"We are going to come back, we are going to rebound and we are going to rebound strong. As a culture, as a society, we love travel, we love exploring, we love finding new experiences. We're going to stay in hotels, so don't lose hope. Hang in there."
More episodes at https://shr.global/soundbites