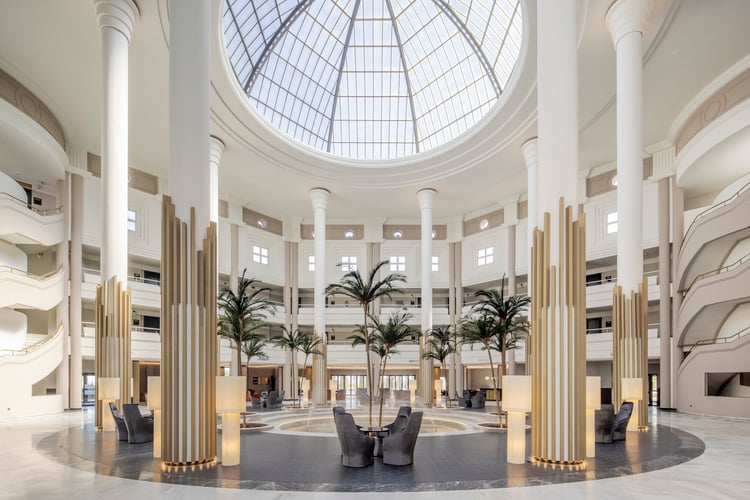 Madrid-based ILUNION Hotels is known for its portfolio of unique, accessible hotels–the types of properties that enable travelers to get lost in another world. The company operates 29 hotels across Spain, including the ILUNION Malaga, ILUNION Islantilla in Huelva, and the ILUNION Sancti Petri in Cadiz, among others, and this breadth of offerings gives travelers the freedom to choose the adventure that is calling to them.
While travelers can choose a variety of experiences among ILUNION's portfolio–allowing for a beachfront getaway, a visit to the big city, and everything in between–the operators at work behind these properties are using the latest technology to deliver the best possible experience to each and every one of them. In order to ensure the luxurious hotels in Ilunion's portfolio continue to operate at peak performance, the company embarked on a complete upgrade of its technology suite, beginning with its central reservation system (CRS).
The Goal: Improve distribution strategy for post-pandemic success
Like many hotel companies, ILUNION was negatively impacted by the reduction in business and group travel that took place as a result of the COVID-19 pandemic. Hotels across the industry relied on business and MICE (Meetings, Incentives, Conferencing, and Exhibitions) bookings, which became scarce amid global lockdowns and calls for social distancing.
While Spain's business travel landscape is beginning to approach pre-pandemic levels of activity, the uncertainty surrounding this space has led many hotel companies to adjust their distribution strategy for the future. ILUNION was so focused on attracting international demand and consolidating business and MICE travel over the past few years that some of its properties, such as the ILUNION Alcora, encountered significant challenges in its attempts to mitigate the effects of the pandemic.
At the same time, in 2019 Ilunion committed to an investment in new technology to improve organizational efficiency, an investment which was still under way as the pandemic took root. While executing on this commitment became a challenge as a result of the pandemic, the timing for doing so couldn't have been better. Ilunion completed the shift to a new PMS–Opera–and was looking for a robust CRS capable of integrating with this platform, as well as unify the many connectivities within the company's distribution strategy.
A stripped-down solution was out of the question. ILUNION was looking for an all-encompassing platform capable of integrating with Opera, which led their team to SHR's Windsurfer CRS. Ultimately, it was Windsurfer's ability to develop dynamic rate structures capable of supporting a wide variety of hotels across a single portfolio that drew ILUNION to the technology.
Before making the determination to adopt the technology, ILUNION's team began investigating the relationship between SHR and Opera, as well as the breadth of capabilities offered by Windsurfer CRS. The company worked with David Orensanz, Chief Commercial Officer at SHR, and the rest of his team in order to ensure the implementation was orchestrated successfully.
"In terms of what we were looking for, Windsurfer covered all of our needs with guarantees," said David López, Director of Revenue Management at ILUNION. "In addition, David Orensanz's team was decisive throughout this process thanks to their knowledge of the technology and their relationships across the industry."
Step by Step
B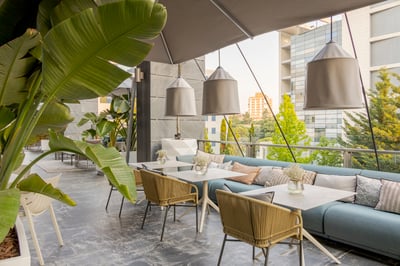 efore even beginning the process of shopping for a new technology partner, ILUNION Hotels performed a full audit of the company's distribution strategy and outlined clear goals for any new implementations. With a portfolio of hotels that run the gamup from three, four, and five-star properties, ILUNION's expectations for channel mix vary greatly depending on a property's location, its seasonality, and its business segment among other factors. However, the company outlined a goal to source 75 percent of its bookings from online distribution, and the remaining 25 percent from business, MICE, and leisure travel segments.
With this in mind, the company chose Windsurfer CRS for three reasons:
Targeted distribution strategy:

The versatility and wide variety of configuration possibilities provided by Windsurfer enabled ILUNION to sharpen its approach to distribution on a per-property basis.

Greater focus on direct bookings:

By increasing its focus on intelligently gathering online bookings from their most valued and profitable guests, ILUNION was able to increase the flow of direct bookings to each of its properties.

Improved operations efficiency: Due to the complex rate structure supported by ILUNION Hotels, Windsurfer was able to simplify or automate several of the administrative or operations-focused tasks at each of its properties, allowing for more of hotel workers' time to be allocated strategically to improve the guest experience.
A Stronger Distribution Network
According to David López at ILUNION, the implementation was so successful because the company was confident in Windsurfer's ability to manage distribution for each of its 29 properties, even amid a technology rollout.
"There are always concerns after a change of this magnitude, as the CRS impacts everything at an organizational level for each of our properties," David López at ILUNION. "Despite this, just a few days into the integration we came to fully trust Windsurfer. Our hotels' inventory and rates are always up-to-date within seconds of making a change, and our service stability is excellent. These elements are testament to the fact that Windsurfer is built on the bedrock of a very powerful technology platform."
ILUNION is not finished evolving, and today its technology investments are giving its operators access to more efficient and impactful means of reaching guests.
"We have continued to see growth across our direct channels in recent years, both in booking volume and rates," David López said. "Our partnership with Windsurfer has allowed customers to find direct sales channels for each of our hotels easily on safe, trustworthy sites, allowing us as a company to overcome some of the remaining challenges that stem from the pandemic today."