Client Information
Set snuggly against the shores of the Gulf of Mexico on Sanibel Island, Florida, the Sundial Beach Resort & Spa is a 407-room luxury level condo resort featuring a steakhouse and sushi bar, as well as two casual cafes and a poolside bar.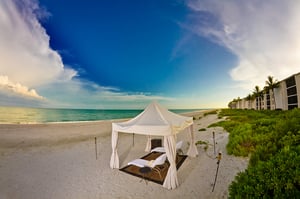 Situation
Faced with an outmoded booking experience, plus a difficulty in rate yielding its 19 different room types, the executives at Sundial resort were looking to revamp and reinvent how they connected with customers on the internet.
Additionally, the resort was seeing a major change in the types of guests it was attracting. Though customers had been families and Baby Boomers, more recently the business mix started shifting to younger Millennials and Generation X. Also, the resort's executives were interested in attracting more international visitors, about 21% of Sundial's customers, who frequently spend more money and time at the resort than their domestic counterparts.
"Millennials and Gen X people are tech-savvy. We needed a product that met those needs yet was easy and intuitive for hotel personnel to use," said Brett Lindsay, Director of Sales and Marketing with Sundial.
Action
The resort migrated to SHR's Windsurfer® CRS and booking engine, which gave customers an enhanced booking experience and access to a more knowledgeable call center. Sundial executives also wanted the booking experience to be simpler, yet provide more detailed information specifically because of the wide range of available room types. They wanted to be sure to never confuse the guest or complicate the booking process. In all, the goal for the year was focusing on raising occupancy with the expectation that those people would then spend more money in the resort's restaurants and bars.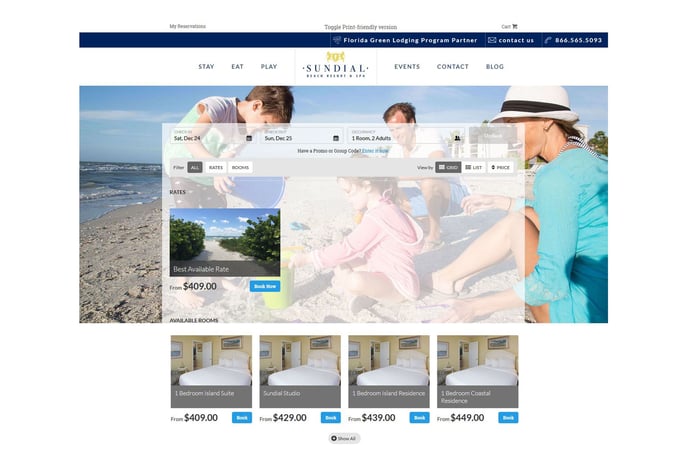 Outcome
"Windsurfer is modern, easy to use, and more attractive to the consumer. More so than a lot of the booking engines today," Brett explained. "We now have additional areas in which we can list room descriptions and there are a lot more photographs too than ever before. People want to see what they are buying. We love the product's polished contemporary look and it's very simple for the buyer to navigate." The results have transformed the property's bottom line.
"Growth is spectacular for Sundial this year as we have exceeded budgeted forecasts by 22% in occupancy, 9% in RevPAR, and 13% in ADR since the implementation of Windsurfer," said Brett. "It doesn't surprise me that SHR is growing as well. They provide a top-tier distribution platform backed by unparalleled service, something their competitors struggle with."
Occupancy for the property improved to just under 80%, a 13% advantage compared to hotels in their comp set. Additionally, web bookings rose 16%, specifically due to Windsurfer, Brett reported, and revenue for occupied rooms rose 26%.
For 2017, Brett said the resort will be focused on raising rates because the property's staff will be able to "maximize opportunities we may not have had otherwise without the Windsurfer product. The product is so easy for us to use at the property level, it gives us more time to concentrate on the overall guest experience."
"SHR made us feel in control when we were feeling out of control," said Brett. "But it's not just the product, it's the people that stand behind the product too."